U.S. Extends Temporary Protected Status for Haiti
Sept. 3, 2015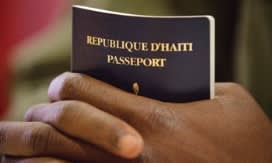 The Secretary of Homeland Security, Jeh Johnson, has announced the Department of Homeland Security (DHS) is extending the designation of Haiti for Temporary Protected Status (TPS) for an additional 18 months. The extended designation is effective January 23, 2016 through July 22, 2017. The extension allows currently eligible TPS beneficiaries to retain TPS through July 22, 2017, so long as they otherwise continue to meet the eligibility requirements for TPS.
Haiti was initially designated for TPS on January 21, 2010, after a major earthquake devastated the country. The Secretary has determined that an extension is warranted because the conditions in Haiti that prompted the TPS designation are still prevalent. There continue to be extraordinary and temporary conditions in that country that prevent Haitian nationals from returning safely to Haiti.
Re-Registration
The 60-day re-registration period runs from August 25, 2015 through October 26, 2015. Re-registration is limited to Haitian nationals who have previously registered for TPS and whose applications have been granted. US Citizenship and Immigration Services (USCIS) encourages beneficiaries to re-register as soon as possible once the 60-day re-registration period begins.
Certain nationals of Haiti who have not previously applied for TPS may be eligible to apply under the late initial registration provisions if they meet (1) at least one of the late initial filing criteria, and (2) all TPS eligibility criteria (including continuous residence in the United States since January 12, 2011, and continuous physical presence in the United States since July 23, 2011).
Work Authorization
The 18-month extension also allows TPS re-registrants to apply for a new employment authorization documents. USCIS will issue new EADs with a July 22, 2017 expiration date to eligible Haiti TPS beneficiaries who timely re-register and apply for EADs under this extension.
Given the timeframes involved with processing TPS re-registration applications, DHS recognizes that not all re-registrants will receive new EADs before their current EADs expire on January 22, 2016. Accordingly, DHS automatically extends the validity of EADs issued under the TPS designation of Haiti for 6 months, through July 22, 2016.
Foley Law Offices
Foley Law Offices is working with clients to re-register their TPS status and work authorization applications. If you are a Haitian national currently residing in the United States, or currently registered for TPS, please contact our office to learn more about registration and eligibility.
Our staff of attorneys may be reached by phone or email.