Immigration Reform, Asylum and Temporary Protected Status (TPS) Hot Topics at Legal Luncheon
May 15, 2015
Picured: Attorney John Foley and Congressman Michael Capuano discussing immigration reform, asylum and temporary protected status (TPS) at a luncheon hosted by Nutter, McClennon and Fish LLP in May 2015.
Congressman Michael Capuano is serving his ninth term as a Representative in Congress for Massachusetts' Seventh District. Prior to serving in Congress, Mike was the Mayor of Somerville, MA, a position once served in by his father. He was born in Somerville to Andrew Capuano of Somerville and Rita Garvey Capuano of Allston-Brighton and Dorchester. He graduated from Somerville High School, received a Bachelor of Arts degree from Dartmouth College in 1973, and a law degree from Boston College Law School in 1977. He passed the Massachusetts Bar in 1977.
Mike co-founded and co-chairs the Congressional Caucus on Sudan and South Sudan. He has emerged as a leading Congressional voice, traveling to the region, securing $50 million for peacekeepers and advocating for a strong response to the humanitarian crises there.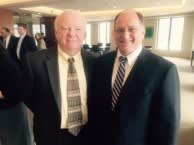 Congressman Capuano had also been influential in advocating for the rights of young immigrants. He filed The Best Return on America's Investment Now Act (BRAIN) to encourage highly educated foreign students to remain in the United States. BRAIN seeks to amend the Employment Based Visa (EB) program to create a new category for persons who have earned Doctorate Degrees in Science, Technology, Engineering, and Math (STEM) in the United States.