Diversity Visa 2020 Program
Oct. 3, 2018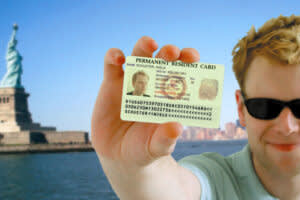 Are you feeling lucky? The U.S. Government is now putting forward an immigration program which allows a class of 50,000 immigrants known as 'diversity immigrants' to be issued Legal Residency/Green Cards. Applicants selected for the program must meet simple but strict eligibility requirements. There is no cost to register for the DV-2020.
Unfortunately, not everyone can apply. DV-2020 is not open to immigrants from:
Bangladesh, Brazil, Canada, China (mainland born), Colombia, Dominican Republic, El Salvador, Haiti, Mexico, Nigeria, Pakistan, Peru, Philippines, South Korea, United Kingdom (except Northern Ireland) and its dependent territories and Vietnam.
Eligibility
Do not submit an entry unless you meet both of these requirements.
Individuals born in countries whose natives qualify may be eligible to enter.

Each DV applicant must have:
A high school education or equivalent. This is defined as successful completion of a 12-year course of formal elementary and secondary education.
OR
Two years of work experience within the past five years in an occupation that requires at least two years of training or experience to perform.
You must also provide the following information in order to complete your entry:
Your name – exactly as it appears on your passport.

Gender – male or female.

Birth date – day, month, year.

City where you were born.

Country where you were born.

Country of eligibility for the DV program.

Entrant photographs. (Recent photographs taken within the last six months of yourself, your spouse and children, etc).

Mailing address.

Country where you live today.

Phone number.

Email address.

Highest level of education you have achieved.

Current marital status and your spouses information.

Number of children and their information.
Entry Period
Entries are being accepted until 12pm on Tuesday, November 6, 2018. No late entries or paper entries are accepted and the law only allows for one entry per person.
Completing your Electronic Entry
To Apply – Go to dvlottery.state.gov. Your entry must be complete in full. Complete your entry yourself, avoiding secondary or professional help.
It is extremely important that you retain your confirmation page and your unique confirmation number once your entry is completed. You can also check the status of your entry after applying when you return to dvlottery.state.gov.
Selected Applicants
The Department of State will randomly select individuals by computer from among qualified entries. All DV-2020 entrants must go to the Entrant Status Check using the unique confirmation number saved from their DV-2020 online entry registration to find out whether their entry has been selected in the DV program. Entrant Status Check will be available on the E-DV website at dvlottery.state.gov beginning May 7, 2019 until September 30, 2020.
For more information on DV-2020 visit the link below:
https://travel.state.gov/content/dam/visas/Diversity-Visa/DV-Instructions-Translations/DV-2020-Instructions-Translations/DV-2020-Instructions-English.pdf
If you have any other questions regarding you eligibility, call our office.
Good Luck!