Boston Globe Article Sheds Light on EB-5 Investment Program
April 17, 2017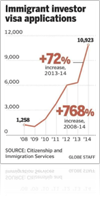 The process for Eb5 Visas has changed signifiicantly in recent years; while it has never been simple, the process has become more complicated than ever before. This article, orginally published by the Boston Globe, sheds new light on the path to green card status for well-to-do entrepreneurs looking to live and work in the United States. If you would to learn more about the EB-5 Investment Program, process please call Foley Law Offices.
Special Program Smooths Path to Visas for Overseas Investors
By Deirdre Fernandes GLOBE STAFF
APRIL 14, 2015
Boston developer Steve Samuels needed financing for his latest project, a 30-story condominium and retail tower on track to rise from the site of a Fenway sandwich shop. But instead of turning only to large banks and institutional investors, he jetted to Hangzhou, a Chinese city that is home to the e-commerce juggernaut Alibaba and a small army of overnight millionaires.
There, in November, Samuels pitched his development and a visa program that provides green cards to foreigners who invest at least $500,000 in US projects that create jobs. Samuels hopes to use the program to entice about 100 foreign investors to put up nearly $50 million for his $290 million development, the Point, at Boylston Street and Brookline Avenue
His company,Samuels & Associates, is among the increasing number of American businesses turning to the visa, called EB-5, to help finance enterprises from hotels to sports arenas to condominiums. EB-5 applications — nearly 11,000 last year — have surged more than eightfold since 2008; over the past decade, the program has attracted about $6.5 billion to hundreds of projects across the country and supported more than 130,000 jobs, according to trade groups.
In Massachusetts, where the visa program has been little used, a red-hot real estate market is leading more developers to consider it, as competition for traditional financing rises and costs follow. So far, three local projects have attracted more than $6 million through the EB-5 program; Samuels' Fenway project would be the largest in the state to raise money through the visas.
"EB-5 is one of many tools that developers like Samuels use to finance large, complex projects," said Diana Pisciotta, a spokeswoman for the company. She declined to disclose how much Samuels has raised so far.
The investor visas were created 25 years ago to help generate jobs in the United States, especially in areas of high unemployment. The program, however, has become controversial as more visas are granted. Critics say the government is allowing wealthy families to buy their way into the country and jump to the front of the line for green cards, even as immigration officials leave so many others fleeing violence, persecution, and poverty in limbo.
"There are millions of people who have been contributing to the US economy and have maintained the economy," said Alexandra Early, coordinator for the Chelsea Collaborative's Workers Center, which advocates for immigrant rights. "What doors are available to them to stay here?"
Foreign nationals who put at least $500,000 into US projects can obtain two-year probationary visas for themselves and immediate family members, and then can obtain green cards, or permanent resident status, if the enterprises create enough jobs. The investors must demonstrate their money has led to at least 10 new jobs, but the requirement is broadly construed. It can include workers at a new building, construction workers who built it, or service workers at nearby restaurants benefiting from the increased activity.
The companies and investors are usually connected by so-called regional centers, primarily for-profit brokers authorized by US Citizenship and Immigration Services. They charge developers to find investors and foreigners for help navigating the EB-5 program and immigration bureaucracy.
To attract investors, regional centers promote their expertise in immigration law and experience working on successful projects. They also emphasize any kind of government support, which can be highly prized by foreign nationals, who typically seek low-risk projects that will pay back their investment and provide a safe path to a green card.
Marketing materials for the Samuels project, for example, stresses that the Point is "endorsed" by the Boston Redevelopment Authority. While the city has approved the development and supports the project pursuing foreign investment, BRA officials say they have no oversight over the EB-5 program, which is handled by federal immigration officials.
EB-5 Jobs for Massachusetts, launched in 2009, is the longest-operating of eight regional centers in the state, most of which opened in the past three years. In addition to assisting Samuels & Associates, EB-5 Jobs has helped find financing for a mixed-use development in Fort Point Channel that includes the Bastille Kitchen and loft apartments; Studio 52, a music and arts space in Allston; and an office building in New Bedford. Those projects helped about 20 investors and their immediate family members gain visas.
"It can be less expensive than traditional funding," said Will Deshler, chief operating officer of GFI Partners, the Boston company behind the Fort Point Channel restaurant and lofts. Because the investors are primarily focused on getting visas rather than big returns on their money, the interest rates they demand can be up to 5 percentage points fewer than bank loans.
"It's not a blanket solution," Deshler said. "You need to have an appropriate deal."
In December, to celebrate the completion of their project, many of Deshler's EB-5 investors, who are from Singapore, Ireland, and South America, got together for a dinner at Bastille Kitchen.
As the visa program gains more interest from developers, it has also drawn scrutiny from federal and state regulators, who have criticized it for poor oversight, fraud, and favoritism. Recently, the Department of Homeland Security's inspector general reported that the former director of US Citizenship and Immigration Services intervened in three EB-5 visa projects that involved high-level Democratic politicians, giving them special access to the process and encouraging favorable reviews of their projects.
In Vermont, the state recently stepped up its oversight of the EB-5 program after foreign investors in a development at the Jay Peak ski resort complained that the developer changed the terms of the repayment plan, extending the loan period, without appropriately notifying them. The state, which created the regional center that recruited the investors, is more involved in reviewing the EB-5 marketing and financing plans now, to ensure that investors are provided with realistic expectations and projects meet their benchmarks, said Susan Donegan, Vermont's chief financial regulator.
Christian Beckner, deputy director of the Center for Cyber and Homeland Security at George Washington University in Washington, said politicians often lobby immigration officials to grant the visas in hopes of bringing jobs to their districts. He added that the program has turned into a cottage industry for a handful of attorneys, economic researchers, and consulting firms.
It's difficult for a foreign investor to find an EB-5 project without going through these intermediaries, who all take a cut, Beckner said.
"It all feels very club-like," he said, "some sort of inside game for the companies that have figured out how to do this."
Originally published by the Boston Globe:
https://www.bostonglobe.com/business/2015/04/14/investor-visa-program-gains-foothold-massachusetts/IqXv0YbV5i1cJJKhTh9dGP/story.html#