Boehner Talks Immigration Reform in Ireland
July 7, 2015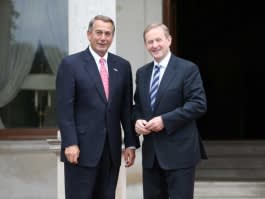 House Speaker Rep. John Boehner (R-OH) traveled to Ireland last week to meet with Taoiseach Enda Kenny and Minister for Foreign Affairs and Trade, Charlie Flanagan, for talks about US-Ireland links. They discussed the Irish economic recovery, immigration reform including the plight of the undocumented Irish in the US, and the situation in the North. While many republicans have argued against moving forward with immigration reform, Boehner has expressed an interest in taking up the highly controversial issue.
During his travels, Mr. Boehner addressed an audience in Dublin and spoke of his commitment to immigration reform. Mr. Boehner discussed the many stories told to him by Taoiseach Enda Kenny, describing how America's broken immigration system has forced Irish immigrants to attend funerals by phone. Although Mr. Boehner expressed his determination to overcome resistance to immigration reform, his Office noted that Boehner never pinned immigration reform as a top priority for this trip to Ireland.
During remarks made after the US-Irish talks, Minister for Foreign Affairs and Trade, Mr. Flanagan described it as a valuable exchange of ideas, and noted the long and successful history of cooperation between Ireland and the US on international issues. Flanagan reaffirmed the Irish Government's commitment to work closely with the Speaker as part of its active engagement on both sides of the aisle in Congress.
Seven other members of Congress accompanied Mr. Boehner on his visit to Ireland, just days ahead of Independence Day. The U.S. Ambassador to Ireland, Kevin O'Malley, was also in attendance. Mr. Kenny praised the ambassador for his work in "building the links" between Ireland and the United States.
Foley Law Offices takes immigration reform issues seriously. Many of our clients come from Irish descent and have felt the repercussions of the failure to fix our immigration policies. If you have questions or concerns about your immigration situation, please call Foley Law Offices and speak with an immigration attorney today.