Attorney Foley Speaks on Irish-Us Relations at Irish Network's 2015 Annual Conference
Nov. 9, 2015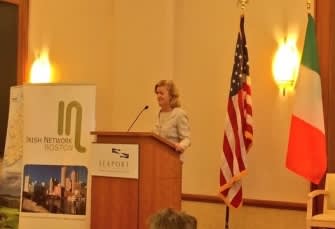 Foley Law Offices was delighted to be able to participate in the Irish Network's 2015 National Conference held at the Seaport Hotel in Boston last week.
Our primary attorney, John Foley, shared a panel on the New Global Irish Diaspora with IN-Boston President Sean Moynihan, Ronnie Millar, the Executive Director of the Irish International Immigration Center and Louise Corrigan, the President of IN-Dublin. While there continues to be significant interest in any form of US immigration legislation, Foley regrettably had to report that there was, "no good news." The new Speaker of the US House of Representatives, Paul Ryan, has reportedly said this Congress will not consider comprehensive immigration relief.
After apologizing for being the bearer of bad news, Foley was able to provide an update on House Resolution 3730 which would allow Irish citizens to use any E-3 visas not used by Australian nationals. The bill is in the House Judiciary Committee and it would allow Irish nationals with a high school education or its equivalent to live and work in the US for two years at a time.
While this does nothing to help the vast majority of Irish looking to live and work in the US, and nothing to help the thousands of undocumented Irish currently living in the US, it could offer an avenue of relief for some Irish nationals seeking opportunities here. Irish Ambassador Anne Anderson said she was optimistic HR 3730 could be part of a much larger end of the year piece of legislation. Attorney Foley inquired as to whether the House Hispanic Coalition would block the Irish legislation, to which Ambassador Anderson responded she was optimistic that would not happen and there would be some measure of relief for the Irish.
IN-USA is the national umbrella organization integrating the Irish Networks that exist in various cities across the United States. It allows members of the networks to connect with their peers and to develop relationships that will foster success in their business, economic, cultural and athletic ventures. There are currently nineteen (19) chapters throughout the US with a total of over 3500 members.
While local support for immigration reform is strong, Attorney Foley explained to the conference that US immigration is federal law and, if there is to be change, it must come from the US Congress. With that in mind, our office sent letters to all of the Massachusetts members of the US House of Representatives asking that they support HR 3730.
Photo: Irish Network Ambassador Anne Anderson at the 2015 annual conference